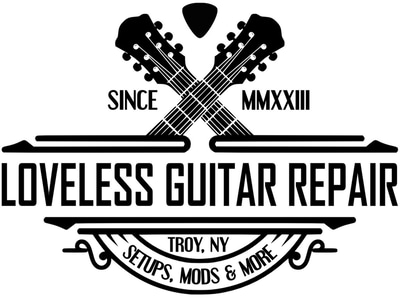 FAQ (Frequently Asked Questions)
SHOP POLICIES
Mission Statement
We aim to conduct our business in a professional manner and expect to be treated in kind.
You may notice that we do things a bit differently than other shops. Our advice and recommendations may occasionally challenge preconceived notions. We ask that clients remain receptive to new methods and trust that our ultimate goal is to help them make music.
Email / Phone Policy
We prefer to communicate via Email or text for all service inquiries. If you have any questions, please use our contact form or email: enzo@lovelessguitarrepair.com
We find that email has several advantages vs. the phone
Rather than interrupting an appointment with a client or risking distraction while working on an instrument, you can reach out at your convenience and we will answer when able to give your question our full attention.
Email is checked frequently during business hours, so you won't be waiting long for a response.
You can send us pictures if necessary and we may include links to relevant information in our response. This process also allows for the easy recall of prior conversations should the need arise.
There are certainly times when it is beneficial to talk on the phone, but we strongly prefer Email whenever practical.
Why We Use Appointments
We operate by appointment only because it helps us to manage our workload and produce consistently high-quality results. Walk-ins are still welcome Saturday and Sundays, but even if you plan to visit, I'd recommend set up an appointment.
During your drop off appointment, we perform an initial evaluation and provide an estimate based off of our price list. During a pickup appointment, you have the opportunity to play the instrument and ask follow up questions.
In an effort to return work in a timely manner, we accept a select number of appointments per day; They typically book up in advance. If a shorter lead time is required, for an additional fee, most basic jobs are eligible for a rush service appointment.
Book Online Now or, if you need assistance, contact us.
48hr Appointment Cancellation Policy
In an effort to manage our workload, we accept a select number of appointments per day. Should you need to cancel or reschedule, we kindly request at least 48hrs notice.
Should the need arise, appointments can be updated via the link included in the confirmation email received at the time of booking.
We understand that occasionally things come up last minute that are beyond your control. However, in the event of repeated late cancellations, we reserve the right to decline future bookings.
No Third Party Drop Off / Pickup of Repairs
A guitar is a personal item; We believe that the particulars of its servicing should be tailored to the individual player. In order to minimize miscommunications, time consuming back and forth correspondence, and maximize our odds for a successful outcome, we request that the owner be present for instrument drop off and pickup.
Turnaround Time
Our appointment lead time fluctuates around current demand. Current availability is best found on our booking page.
Once in shop, setups and other small jobs are usually turned around within 2-3 business days. Larger jobs will take longer and require evaluation before an estimated turnaround time can be given.
If you require a shorter lead time, for an additional fee, most basic jobs are eligible for a rush service appointment.
Timely Pickup Of Completed Work
We do our best to complete instruments in a timely manner and request that pickup be made within (7) days of notice of completion whenever possible.
Instruments that have not been picked up within 30 days of the first emailed notice of completion will be considered to have been abandoned.
Payment is due at the time of pickup.
Cash is preferred. For your convenience, we also accept credit cards (Visa, Mastercard, Discover, American Express). No checks please.
We are required to collect New York State sales tax for all sales and services performed.
Our Warranty - 45 Days: Satisfaction Guaranteed
Loveless Guitar Repair is proud to stand behind our work with a 45-day satisfaction guarantee.
This warranty does not extend to any instrument that has been subjected to poor humidity care, adjusted or otherwise modified after leaving the shop, or to matters that can reasonably be attributed to limitations of the product serviced. Our warranty also does not apply to strings, or any customer supplied components but I could offer a ONE TIME restring per 45-day period.
If you encounter any issues during the warranty period, simply contact us to arrange a follow up appointment to evaluate any concerns. In the unlikely event that the need for a refund for products or services arises, all reimbursements will be issued via check.
Commonly Requested Services
A Few Services We Don't Offer
At Loveless Guitar Repair, we are extremely grateful to our clients for consistently keeping our shop schedule booked in advance. In an effort to maintain our standards for quality workmanship and service, we have chosen, for the moment, to avoid select jobs that are either outside of our core offerings or that we anticipate will require a substantial amount of bench time to complete.
Some examples of jobs that we are not accepting at this time are as follows:
Finish touchup and refinishing work
Rebinding
Major structural repairs or modifications
Neck resets of glue in "set neck" instruments.
Parts-guitar or kit-guitar assembly
Relicing
We find it necessary to prioritize jobs that we can see through from start to finish.
As such, we are also unable to take on piecemeal work. This includes the completion of in-progress repairs.
Shipping Your Instrument For Repair
Due to high demand locally, we are operate on a carry-in / carry-out only basis at this time.
Shipping and Receiving of repair work is currently unavailable.
We do offer Pick-up/Delivery service for a fee.
Do You Do Instrument Appraisals?
We do not. We stay busy with the repair business. We encourage you have your instruments appraised though. If you bought a guitar 20 years ago for $800 and now its worth $5000, your appraisal helps to document its current value.
Do You Buy / Sell / Consign Used Instruments?
We do not buy or offer used instruments for resale at this time..
This other guy says he can do the job cheaper...
That is great! We wish you luck with your project. In our industry we fully believe you get what you pay for. The best part is, you get to chose whomever you want to work on your baby.
We do not price our repairs to compete with the other guys. We are competitively priced with other top rated standalone repair shops across the area.
Is this worth fixing?
Knockoff Instrument Brands
We find that these inexpensive look-alike instruments are often a disappointment to the discerning player.
Though they photograph well and receive favorable online reviews, in our experience, clients typically bring these instruments seeking a setup for lower action, only to find that substantial fretwork or other major repairs would be required in order to accommodate the request. The work necessary to achieve a level of playability consistent with our shop's standards is likely not cost effective on a cut-price instrument.
We are happy to inspect any instrument that you would like, but please note our In-Shop Evaluation Policy. We recommend emailing us questions and detailed photos of any instrument that you are unsure of before scheduling an appointment.
CHIBSONS are definitely not worth it, though. I'd rather setup an inexpensive Firefly or Glarry guitar over a Chibson.
Heirloom / Inherited Instruments
Condition is everything with vintage instruments. More often than not, when a prospective client inquires about repair of an inherited instrument, the conversation soon turns to how it has been stored in an attic or basement for many years.
While the instrument may outwardly appear to just need a new set of strings, or the action adjusted, with humidity control being such a crucial factor in instrument maintenance, many times these instruments require extensive repair work to be made playable. They may also suffer from the degradation of plastic hardware such as pickguards, bindings and tuning keys.
Unless the instrument was made by an iconic brand like Fender, Gibson, or Martin, the necessary repairs will likely exceed the resale value of the instrument.
We are happy to inspect any instrument that you would like, but we recommend emailing us questions and detailed photos of any instrument that you are unsure of before scheduling an appointment.
Sentimental Value
We sympathize with the memories that may be associated with a particular instrument. However, for items of limited intrinsic value, we generally believe that it is best to display them in the condition that they were left by a loved one rather than to attempt to restore some degree of playability.
We are happy to inspect any instrument that you would like, but we recommend emailing us questions and detailed photos of any instrument that you are unsure of before scheduling an appointment.
Do you service other instruments?
Currently we only service guitars and basses.
Do I have to pay for my repair in advance?
While we do operate on a pay at drop-off system, we will never turn you away. And the only reason we changed to a prepay system is because people would leave their guitars in for a long time after the job was completed. This left us no room to even walk. Pre-payment also helped with people abandoning their guitars. We understand pay day hits at different times and that sometimes you need to go ahead and get in line. Just let us know at drop-off and we will gladly let you pay when you pick up. Also if you have a big mod, makeover, or complex repair, you can put a deposit down and pay the remainder at pickup. We are very flexible. Also if you are ever uncomfortable to pay in advance because you want to inspect our work first, you may definitely pay when the job is complete, being the exception when we need to order parts or supplies.
What is your In-Store Evaluation Policy?
Guitars and Basses are deceptively intricate pieces of equipment; A seemingly minor issue can make a world of difference in terms of the instrument's playability. For beginners and professionals alike, music making is challenging enough without unnecessarily fighting to overcome the shortcomings of an instrument that isn't up to the task.
We recommend having guitars and basses professionally evaluated and setup regularly. This is especially true of newly acquired or rediscovered instruments; An evaluation is a great first step towards ensuring that they are capable of providing years of enjoyment. No pressure or gimmicks, just our honest opinion based on years of professional instrument care and maintenance experience.
All Evaluations Include:
Assess instrument for overall structural integrity: check finish, glue joints, and neck angle

Check neck for straightness and determine if truss rod is working correctly

Make sure frets are level, properly seated, and not excessively worn

Visually inspect nut and saddle for any imperfections

Test that all electronic components are working correctly (if applicable)

Measure action and intonation

Play through to asses overall feel

How It Works:
We set to work on your guitar or bass the moment you schedule an appointment. When booking, you will be asked some general information about the instrument and the service requested; This information helps point us in the right direction. If necessary, we may follow up via email to request photos or further information.
Upon arriving for your appointment, we will briefly asses the instrument, its maintenance history, your preferences and style of play, as well as any specific concerns that you have. You will then be e-mailed a detailed claim ticket with an estimated cost for all work prescribed. All quotes are based off of our extensive repair price list, so you know that you are being treated fairly.
We aim to perform service "up to a standard" rather than "down to a price". During the course of repair, we prefer to do what is necessary to get your instrument performing its best. As such, minor changes to the initial estimate may apply. However, should anything major come light, we will contact you for authorization before performing the additional work.
Why We Charge A Bench Fee:
In shop evaluations are subject to the shop's minimum bench fee of $25. For our most basic services, this fee may be the total price of the repair. For larger services, it is included in the listed price and is not charged separately. On rare occasions, should the client choose not to pursue the prescribed work, we reserve the right to collect the bench fee to cover the time spent diagnosing your instrument.
We aim for the highest quality service; Quality work takes time. In order to return jobs promptly, the shop accepts a select number of appointments per day. Between correspondence, evaluation, and research, we routinely spend anywhere from 30 minutes to 1 hour on an instrument before the "real work" even begins. We charge a bench fee so that we are not forced to compromise on the effort spent giving a thorough examination..