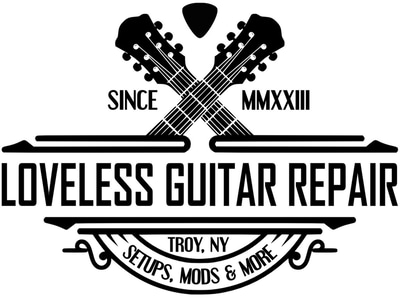 Basic list of services provided by us
Setups
(
Strings are not included)
A good setup is the difference between an average guitar and a great guitar. I offer 3 levels of setups:
Premium Setup recommended to advance players in need of fretwork maintenance. Frets are leveled, recrowned, and polished in 2 stages. The result is a guitar that plays great.

Standard Setup is recommended for new players with midrange or inexpensive guitars. It includes nut, truss rod and intonation adjustment, cleaning and polishing frets and fretboard, tightening loose hardware, spraying and cleaning of electronics, pickup height adjustment, cleaning instrument, restring.

Restring & detailing It's the bare minimun recommended to all players. Includes removal of all strings; fretboard cleaning and conditioning; basic clean and polish of frets and the body of your guitar; installation of new strings and inspection.
Note: ALL setups include a 45-day warranty
PS: D'addario and/or Ernie Ball strings are stocked in the shop, you may provide your own, or you may special order at time of drop-off (a surcharge may apply when ordering special/unique sized strings).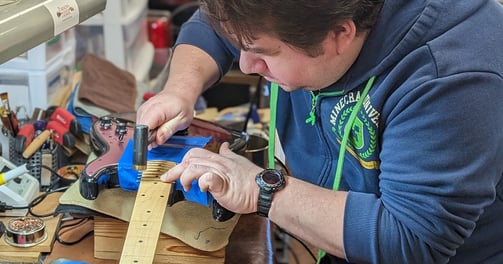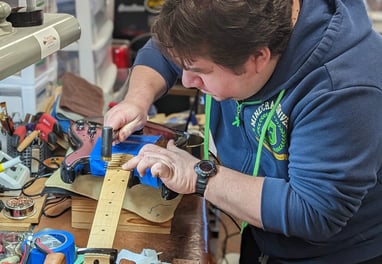 Electronics
Installing quality pickups is the single biggest thing you can do to improve the sound of your guitar. After an upgrade, most people find that even a midrange import guitar can sound as good as a pro level one.
Modifying the electronics in your guitar is also a great way to open up new tonal possibilities. Options like coil-splitting, series/parallel switching, treble bleeds can turn a one trick pony into a jack of all trades.
Even upgrading the simple parts of a guitar like pots, switch, and jack can open up the tone. That's why I prefer to use quality parts.
Fretwork
From level/recrown/polish to spot leveling or fighting fret sprout. Scratchy or rusty frets can deter your playing and inspiration.
Custom Nuts and Saddles
A bone nut or saddle will instantly improve your guitar's tone, sustain, and tuning stability. The natural lubricating properties of bone keep the strings from binding, helping to keep your guitar in tune.
On the other hand, TUSQ and Melamine offer manmade, self-lubricated nuts and saddles, whereas bone and ivory nuts must be lubricated manually.
Miscellaneous
Other typical installations, adjustments or replacements: Tuners, bridges, truss rod adjustments, etc
All services by appointment only (Walk-ins welcome Saturday and Sunday).
Texts/emails are preferred, I offer free estimates so hit me up.