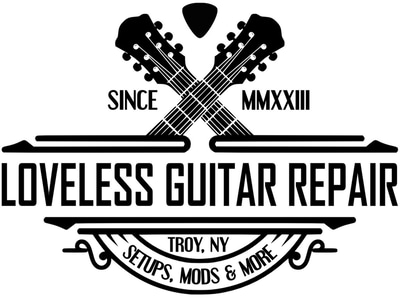 We come to you, or you come to us
At Loveless Guitar Repair, we take pride in removing the hassle of getting your guitar setup. As it was during the pandemia (back in Long Island), we offer 4 convenient options by appointment, to have your guitars set-up and optimized in no time.
Service Options
​Drop off to the shop

Rush Service (either 2-hour or Next Day)

Pick up and Drop off

Onsite work in your space
We proudly provide our pro guitar setup services and more to Troy, Albany, Latham, Mechanicville and more. Please read below and select the option that works best for you, and send us a text or email, to book your service appointment today.
Option 2 - Two-Hour Rush Service (Adds a $40 fee)
Scheduled in advance, at least 2 days notice.
ONLY offered Saturdays and Sundays.
Services Eligible for 2-Hour Rush Service
- Setups
- Strap Button or Strap Lock Installation
- Tuning Machine Installation
- Fret Polishing
- Simple Wiring Repairs (output jack, potentiometer, switch etc.)
Option 3 - Next Day Rush Service (Adds a 25% fee)
Scheduled in advance, at least 2 days notice.
Services Eligible for Next Day Rush Work
- Setups
- Strap Button or Strap Lock Installation
- Tuning Machine Installation
- Fret Level Crown and Polish
- New String Nut
- New Bridge Saddle
- Pickup Installation
- Simple Wiring Repairs (output jack, pots, switch etc.)
Option 4 - I pick-up and deliver your instrument back to you
Available within 15 miles of Troy (no tolls) $50 service fee
2 piece minimum (might accept 1 instrument, depending on queue), on-site pricing for setups (see pricing below), bench time is reduced to in-shop rates, turnaround time is 1-3 days.
2 guitar minimum $70 per setup
4-6 guitars $60 per setup
7 or more - $50 per setup
Option 5 - I come to you (time allowing)
Have all of your guitars serviced in the comfort of your home, office, or studio, in a timely manner, by me.
On-site service fees and coverage areas.
Within 15 miles of Troy (no tolls) $60 service fee
2 guitar minimum $85 per setup
3-6 guitars $75 per setup
7 or more- $65 per setup
On-site bench time $50 per half hour, $100 an hour
On-site service includes setups, maintenance, light wiring, and light fret work. Please email your contact number and we will get in touch with you to lock down a quote and time slot to get your gear optimized.
All payments must be made upon pickup in Cash or via Zelle or PayPal. Please inquire for PayPal details.
Please contact us for a custom quote if you fall outside of our coverage area but would like to inquire about service. Thank you!
Option 1 - Drop off to the shop
Make an appointment today, to drop off your guitar.
Appointment windows for drop off:
Monday to Friday nights from 6 to 9pm
Saturdays and Sundays, all day from 8am to 4pm

General turnaround time is 5-7 business days for standard setups (but as we are just opening our doors, waiting times will be lower than that).

We offer competitive pricing and fast turnaround on Setups, Intensive Electronic Repairs, Custom Wiring: Coil Taps, Phase, Kill Switch, Fret work, Restoration, Structural Repairs (headstocks and acoustics)

Guitar and Bass Setup Options

"Restring AKA basic setup" $20+strings
(In shop only)
Includes: removal of all strings; fretboard cleaning and lemon oil; clean, polish and wax instrument; installation of new strings; instrument inspection.

"Standard Setup" $60
Included:
Action adjustment (truss rod and saddle)

Set intonation

Remove tarnish from frets

Clean and condition fretboard

Wipe down instrument body

Nut-Slot height adjustments

Tighten loose tuners / strap buttons

Check electronic controls (if applicable)

Adjust pickup height (if applicable)

Bench test instrument

Vacuum-clean instrument's case

Record instrument's condition / settings

Restring

"Premium Setup" $150
Includes everything in the Standard Setup plus the fret are leveled, recrowned and polished for extra playability.

• Additional $10 charge for instruments with locking tremolo, 10, 12 stringed guitars
• Customers provide strings or buy from us (2 sets recommended). We proudly stock D'addario and/or Ernie Ball strings at the shop.

Additional Setup Services
Spot Level starting at $45 • Fret-end filing starting at $40 • Bench Time $75 per hour, $40 on the half hour pro-rated.
Broken Jack replacement $40 (includes Jack)

Intensive Repair Work
Please email us photos and make and model for all structural repair inquires, fret work, rewiring, modifications, nut work, finish work etc, and we will get back to you right away with price and time frame estimates.