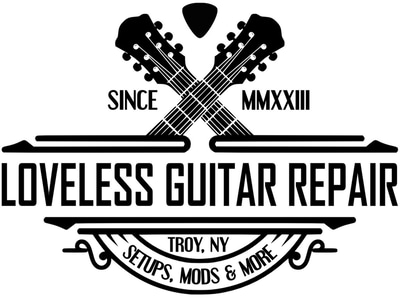 Basic pricing guide.
FREE estimates and $10 off until further notice
Setups
(strings NOT included)
Premium* Standard
Electric w/fixed bridge $150 $60
Electric w/floating tremolo $160 $70
Acoustic 6-string $150 $60
Bass - 4 strings $150 $60
Bass - 5 or 6 strings $160 $70
*Premium get your frets leveled, recrowned, and polished
Restring & Detailing
(strings not included)
Acoustic Guitar $20
Electric Guitar $20
Floyd Rose/Bigsby $30
Bass $25
Electronics
Pickup Replacement $25 per pickup
Full rewire Starting at $85
Wiring Harness Installation $70
Acoustic pickup installation $100
Rewire jack $15
Replace Output jack $25
Control Switch Replacement $25
Control Pot Replacement $25 per pot
Clean Controls $15
Note: Semi/Hollow Bodies +50% surcharge
Fretwork
Grind & Polish, starting at $100
(Fret polishing, leveling and crowning)
Polishing $40 (included in Setup)
Spot leveling, starting at $45
(for those guitars with a few high frets out of the box)
Fret-end file (overhang), starting at $40
(deals with fret sprout)
Re-seat fret $15 (each additional $10)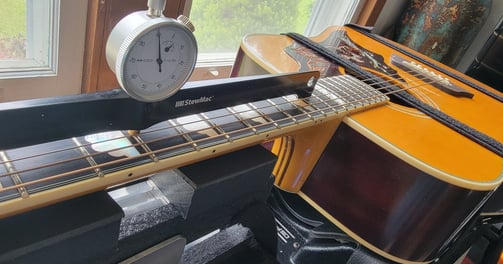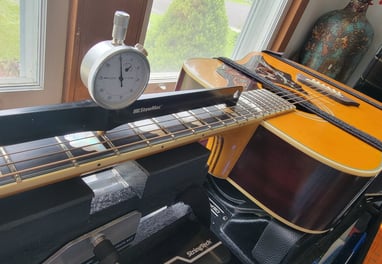 Custom Nuts and Saddles
(add standard setup for $40)
Handmade Bone Nut $75
Handmade bone Saddle $75
Fit & adjust pre-cut nut $40
Difficult Removal of Nut +$10 surcharge
Mounting Bridges during setup
Drop-in Tune-O-Matic or Hardtail $30
Mount new tremolo Strat/Floyd $30
Mount Bass bridge $30
Mount Tele bridge $30
Tremol-no/Trem-Stop $30
Tuning machines replacement
(strings NOT included)
Tuner mounting, drop-in, 6 strings $20
Tuner install, reaming & drilling 6 string $50
Tuner install, non-dog ears (Two-pin) $65
Miscellaneous
Electric Pickguard replacement $30
Inlay Stickers installation $30 (BYO)
Truss rod adjustment $20
Acoustic hydration $65 (5-7 days min)
Install strap button/Straplocks $15–30
Adjust Action or Intonation $25
Adjust Truss Rod $20
Blocking one side of tremolo $60
Blocking second side of tremolo $20
Lower Nut Slots $25
Dowel and Drill Strap Button $20-$30
Removing Stickers $25-$40
Additional Information
All services by appointment only (Walk-ins welcome Saturday and Sunday).
Texts/emails are preferred, I offer free estimates so pictures and videos are appreciated, also makes easier to come to a conclusion.
No shipments of instruments.
Instruments must be dropped off with case or gig bag.
Services not offered: amplifier and pedal repair; re-finishing, structural repairs nor full refrets (yet).
Labor hour rated at $75/hr
Sales tax of 8.875% will be added to all parts/strings required/ordered for the repairs.